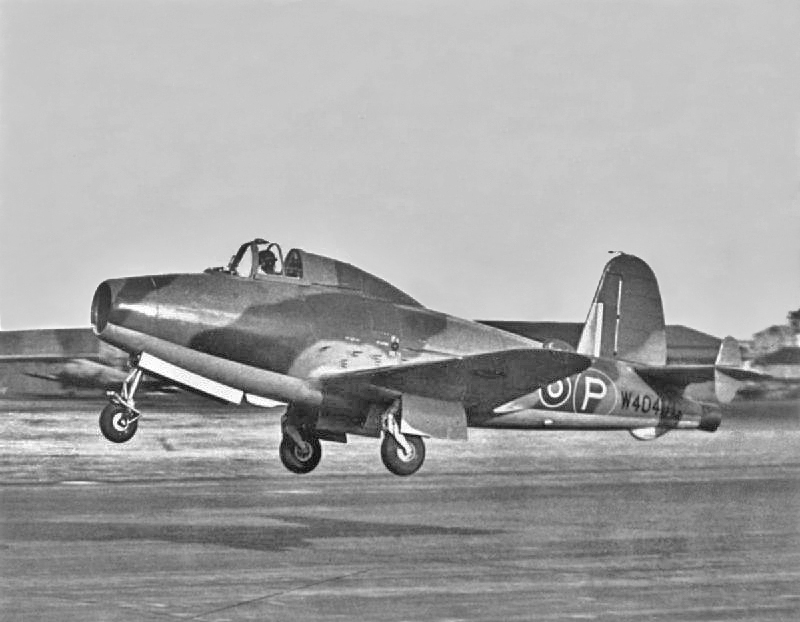 The E.28/39 - the first jet aircraft
Let me start at the beginning.
On the 7th and 8th April 1941, during World War 2 the Frank Whittle's Whittle Unit bench test engine was attached to the Gloster E.28/39 aircraft, which hopped down the runway of the Gloster Aircraft Company (GAC) in Brockworth, roughly where Dowty Propellers' new factory in the Gloucester Business Park is, and made aerospace history: Britain had produced the allied world's first jet engine, following the earlier German Heinkel He 78 success.
Crucially this happened here in Gloucester, which is why the rather odd bronze sculpture ('Spirit of Aviation') featuring a jet engine and a man covering his ears from the noise, possibly based on Frank Whittle sits on Northgate Street with its back to the new University of Gloucestershire City Campus (ex Debenhams).
(Right) Spirit of Aviation in Northgate Street and (Left) Gloster Aircraft Company factory in WW2
This new jet age and global conflict meant that the Gloster Aircraft Co (so spelt because their early Japanese Air Force customers had difficulty pronouncing Gloucester) grew and grew for the next 3 decades, through WWII (every Typhoon and most Hurricanes were manufactured here, but not Spitfires, although their propellers came from Dowtys), the Gloster Meteor (famous in the 1950s during the Korean War) and lastly the Javelin. It was a remarkable story and of course very sad when the sprawling empire of Dowtys was broken up.
But the contribution of Gloucester and Gloucestershire continues to be crucial to the current duopoly of aviation (Airbus and Boeing) as well as the current Typhoon or Eurofighter, exciting new developments for the first electric and hydrogen powered aircraft, and I hope with the future allied 'Tempest' fighter.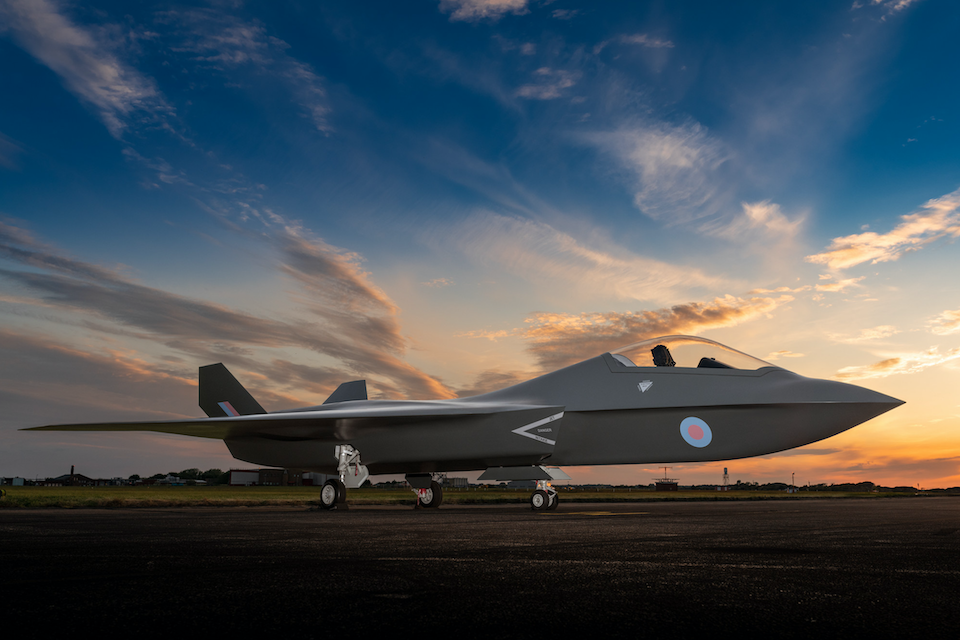 Computer generated image of the new Tempest fighter
In all the current exciting developments we depend on multi national investment, British aerospace engineering expertise and innovation: and favourable global support for travel and defence requirements.
The French owned Safran for landing gear and US GE Aviation at Bishops Cleeve as well as owners of Dowty Propellers are the principal businesses working direct with Airbus/Boeing. Gloucester sub contractors stretch from Poetons (coatings) to Esterline (fire insulation) and Helipebs (cylinders), and many others. And although production is the glamourous partner, maintenance and repair (MRO) are more reliably profitable. The two together ensure that Made in Gloucester aerospace matters to Airbus and ultimately the airlines that buy Airbus.
Nor, just to deal with one occasional red herring, has Brexit affected aerospace sector at all. Although BAE sold its equity holding in Airbus in 2006, the UK continues to make about a third of the value of every Airbus (with Rolls Royce engines), something I've highlighted in Parliament (there is no export credit for this in our trade figures).
The wings, landing gears, engines and some avionic instruments are the main UK ingredients from the 'Tier 1' contractors, and they are crucial to the success of Airbus, and the trade agreement we reached with Europe means that all aerospace parts can travel in and out of the UK completely tariff free. So although there is no room for complacency, and other factories to compete with elsewhere, aerospace is still key to our city, county and country.
Of course during the pandemic travel and tourism took a terrible beating. But the bounce back since we came out of COVID has been equally extraordinary.
At Safran several who were laid off are now back helping with new demand. Meanwhile new investment at Staverton reflects Safran's confidence in the future of the business and the need to attract and inspire new generations in modern surroundings.
For although the Art Deco Safran building is of an age and style matches well the star aircraft of the wonderful Jet Age Museum across the road, Safran's landing gear has moved on well ahead of its buildings.
This matters to us not just because of engineering innovation and the contribution to business rates and tax revenues but because as global aviation expands, there is a direct impact on job growth in aerospace. So when Airbus says its revenue grew by a quarter in Q2 2023, and expects to deliver over 40,000 new passenger and freight aircraft over the next 20 years, then the pipeline of jobs and apprenticeships at Gloucestershire Engineering Training (GET) and all the aerospace members of the consortium behind it is strong too.
No wonder then that Safran's revenue is also up a quarter in H1 2023 and that both Airbus and Safran are adjusting up full year forecasts again.
I see this in South East Asia particularly. Now in my eleventh year as the Prime Minister's Trade Envoy, I'm often calling on leading airlines or governments to promote e.g Airbus/Rolls Royce and other UK aviation strengths (e.g Smiths Detection equipment at airports). The recent order by Indigo, the largest Indian airline, of 500 Airbuses is but the most spectacular example of the Asian middle class consumerism boom. Airlines like Air Asia (Malaysia), Cebu Air (Philippines) and Lion Air (Indonesia) are all fast growing customers of Airbus (and Boeing), and each time an Asian airline put in an order for more aircraft I'm thinking of the extra apprenticeships and jobs that helps secure in Gloucestershire.
Nor does the modern aerospace story stop there. The next drive has to be to reduce carbon emissions, and although Rolls Royce have made their new engines much more efficient, and technology reduces taxiing times and route efficiency, the big carbon savings will be around engines and sources of energy to replace current aviation fuel. So the search is on for energy innovation for aerospace. In Staverton Airport a small company (Electroflight), backed by a big one (Rolls Royce), has created the world's fastest electric aircraft the 'Spirit of Innovation.' Electric powered aircraft could well be the future for smaller planes.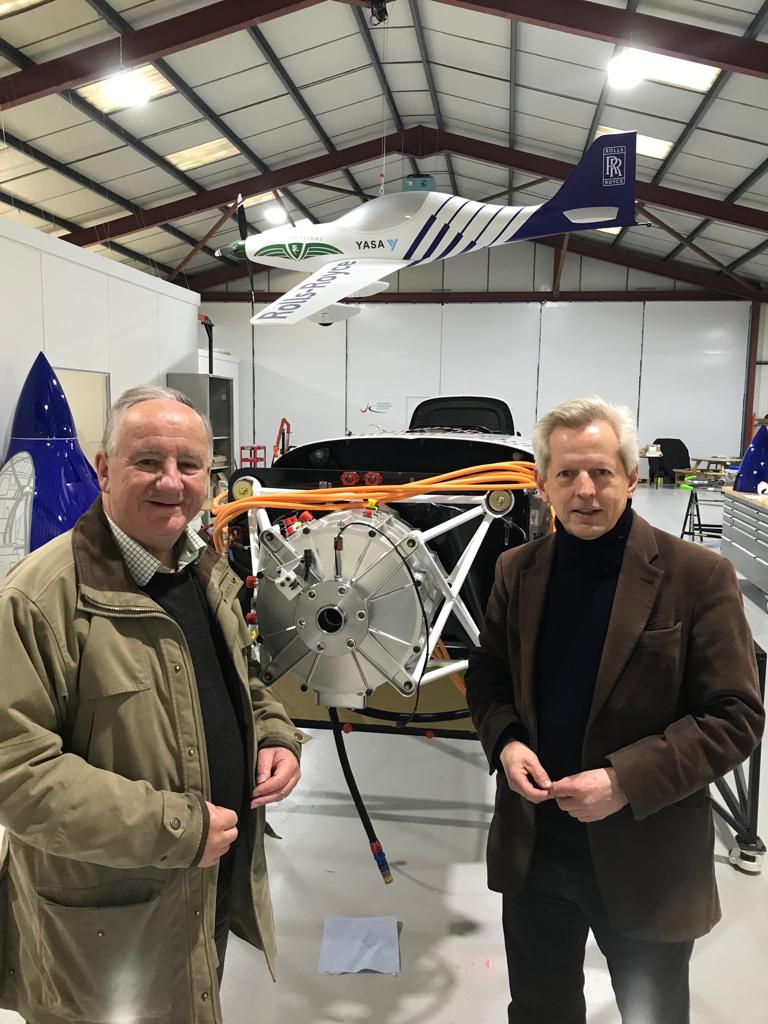 Visiting the 'Spirit of Innovation' with Tewkesbury MP Laurence Robertson
Meanwhile only 20 miles away at Kemble Airport, the world's first hydrogen aircraft has had its first flight. The potential for this is huge and the research being done by the son of another Gloucestershire entrepreneur Joe Bamford on hydrogen for JCBs is another example of how sources of fuel are changing, and hydrogen is a likely longer term winner.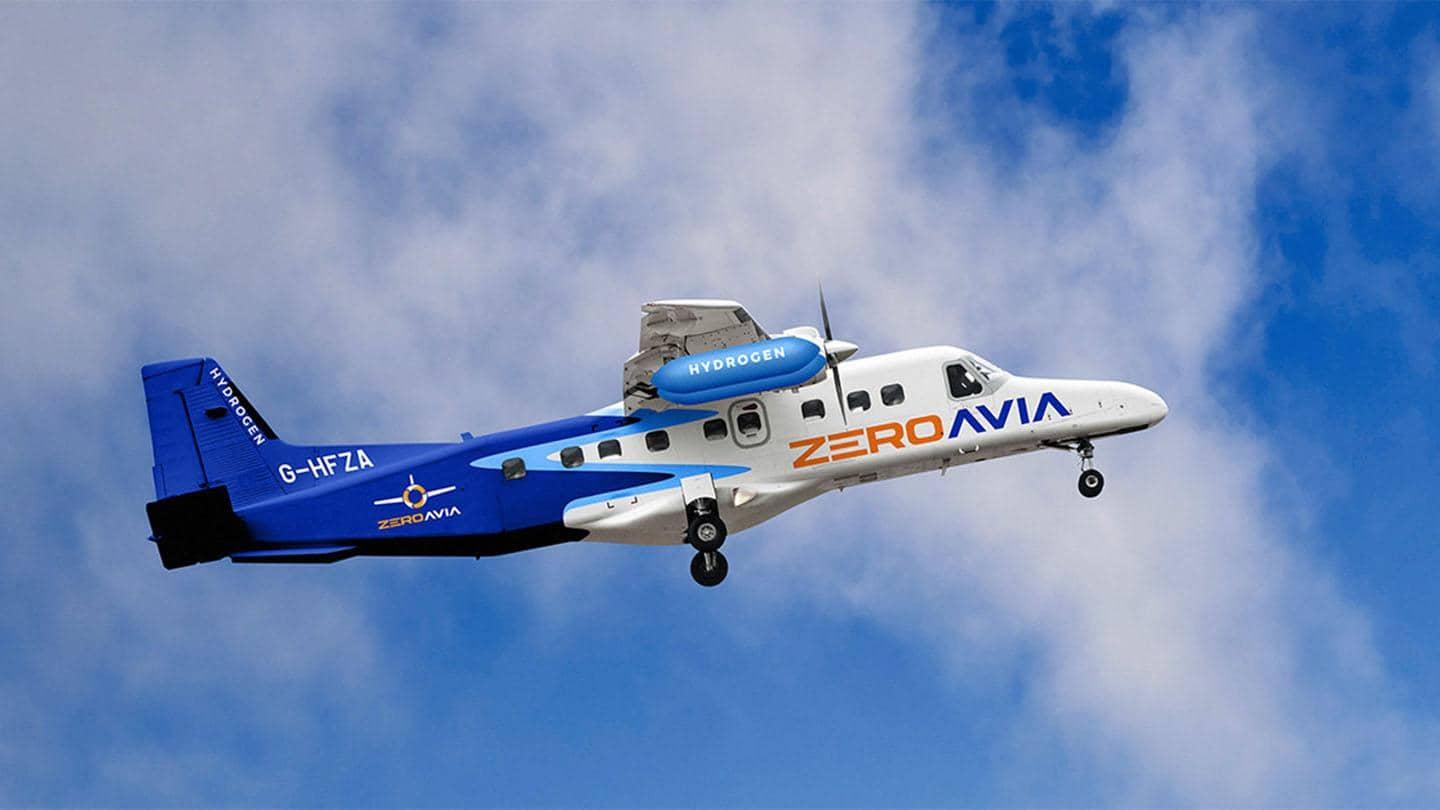 ZeroAvia (hydrogen aircraft) being developed in Kemble
So while the jet engine is still key to aerospace, the industry and its response to climate change, carbon and net zero goals is evolving, and both these two Made in Gloucestershire innovations may well give us the shape of the future of aviation - vital changes for the future of our planet too.
So aerospace and aviation in Gloucestershire are on the up and the opportunities considerable. This is great news for our county and growth - but it's also good for our public services, because the business rates they pay enable crucial expenditure on services from social care to waste collection. there is still not enough understanding about the link between growing public services and and business doing well.
As a former University of Oxford Air Squadron (OUAS, part of the RAFVR) pilot and Cathay Pacific General Manager (and colleague of Frank's son and B141 Pilot Ian Whittle, now patron of the Jet Age Museum) I take great pride in both our aerospace heritage and our future.
Alongside aerospace, our nuclear expertise (the home of the EDF nuclear operational HQ) and cyber sector (businesses like BAE systems as well as GCHQ) make for three key growth sectors with huge opportunities ahead – new engines and sources of power, nuclear fusion and AI but the latest twists that give us the chance to be a major manufacturer in all three for decades ahead.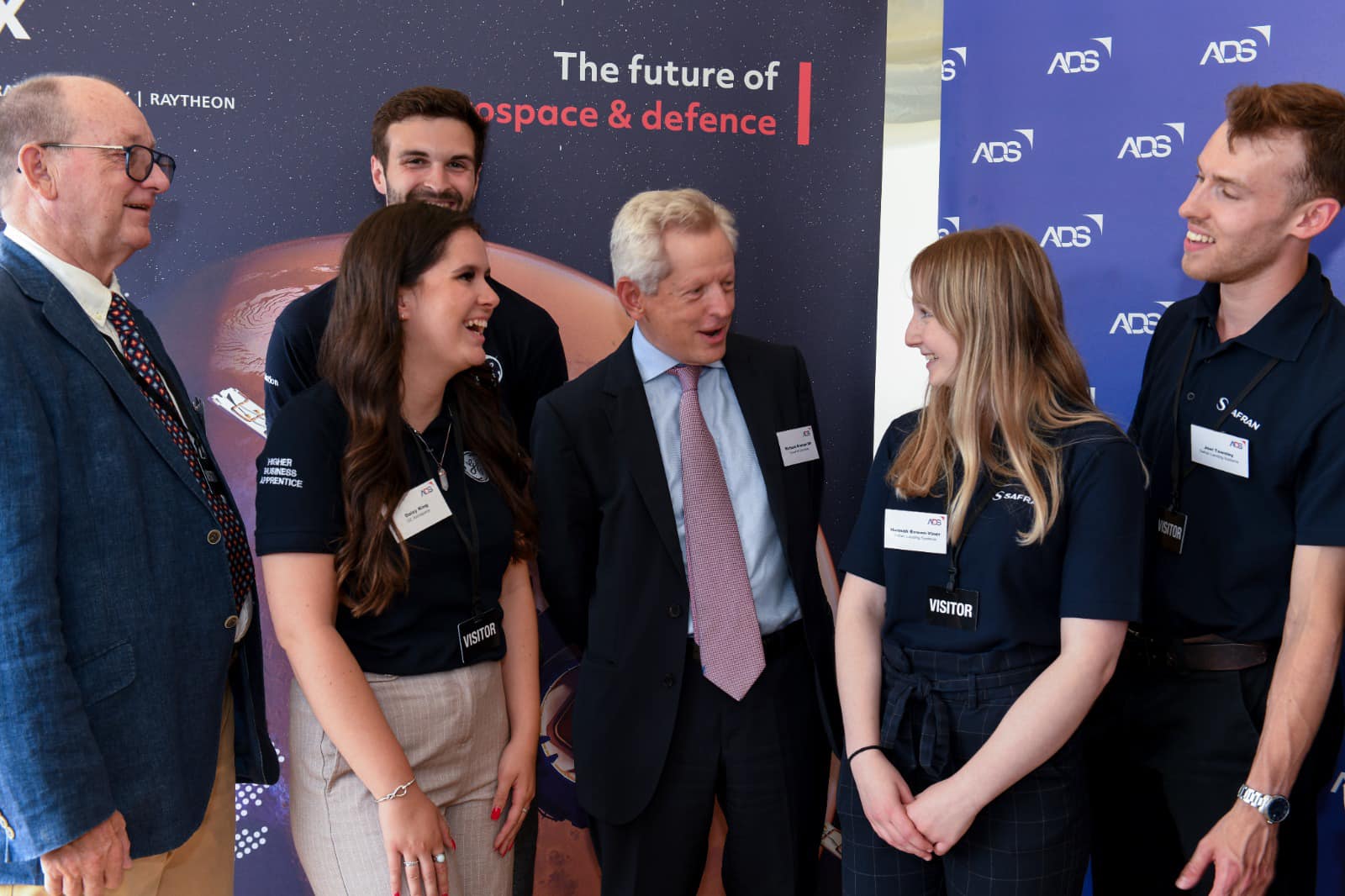 Meeting apprentices from GE and Safran
Encourage your children to do maths or science A levels if they want to be part of this!
Let me know your thoughts by email to Richard.Graham.MP@parliament.uk
Best regards